Thanks Rafe, I now have a working oil pressure guage, in fact, I have 2! The 0-10 bar guage reads in exactly the same position as the 0-5 bar one, ie double what is correct. (with the 0-5 bar sender)
Turns out, i'd got confused and mismatched the Rists plugs pins from the dash to the main loom for the OPG signal lead. Once I knew what I was looking for (should have been obvious, DOH!) finding the fault was easy!
So can I interest anyone in a genuine VDO 0-10bar electric oil pressure guage, test use only, circa £40+ on ebay, £20 + postage (but you'll need a 0-10 bar sender) Upper quadrant style and similar font to Dolomite instruments, black bezel and lights up green like later Sprints do.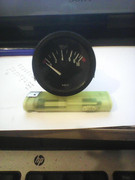 Steve