Some progress after a setback.
I have found a suitable matrix.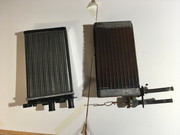 This is for a VW transporter, I don't know which model, I found the matrix by size and only know it's part number.
This is the second choice matrix, the first was Peugeot 605 but alas
these come without any pipework attached, you have to buy that separately.
Normally, this would be a minor problem because there are probably half a dozen places within 15 mins walk
that will have something suitable by way of a solution but I cannot visit any because of the current lockdown.
(I have had to buy a lot of stuff online including paint because of the lockdown restrictions

).
So I took a look on ebay but then casually decided to try for a different matrix which is where I found this VW one.
It took a while to find it's dimensions on Google (the Carcooling UK site doesn't show it),but
as you can see is close in size to the Dolomite one, being roughly the same length and width but 15mm taller.
(It has 19mm hose tails but I am going to stick with my original plan of employing 16mm hoses because that is what the new valve size is.)
Obviously, being plastic, the internal divider between the inlet and outlet can't corrode.
This matrix cost £24 including VAT and delivery.
The striking thing about the VW matrix is how large the diameter of the tubes is, it is almost like comparing rone pipes to garden hose.
They pipes have what resembles an arcamedes screw inside (obviously to ensure the coolant is circulated onto the wall of the tube)
Out of interest I tried comparing the capacities
the Dolomite holds so little it didn't actually reach the first mark on my measuring jug (100ml), whereas
the VW matrix is fully 350ml,
or to put it another way, less than three club nips compared to a 1/2 bottle

.
Next I will have to clean up the heater box (which is in quite a state),
then decide where to put the heater valve?
thanks,
Ian.
_________________
TDC Forum moderator
PLEASE
help us to maintain a friendly forum,
either PM or use Report Post if you see anything you are unhappy with. Thanks.