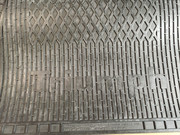 The above is a photograph of a section of NKC570, a 1500 front footwell floor mat.
Does anyone know if there was a version sold for the back footwells
and if so, the part number please?
What I am thinking of is commissioning a pair of floor mats for the back for my own car,
to match the above.
Thanks
Ian
_________________
TDC Forum moderator
PLEASE
help us to maintain a friendly forum,
either PM or use Report Post if you see anything you are unhappy with. Thanks.