I seem to have solved the fixing the cheap Chinese quartz clock in the hole in the Dolomite dash more easily than I expected. However, seeing the price that they are going for on ebay I decided against stealing the chrome ring off the one I have that runs slow, no matter how the adjuster is screwed anti-clockwise.
The fixing just took two silicon rubber O rings. I've use a 4mm (54mm ID x 62mm OD) and a 3.5mm (55mm ID x 62mm OD), though the smaller one, which is against the back of the clock bezel is only acting as a spacer. So two 4mm ones might well do. These are less than a couple of quid each on ebay.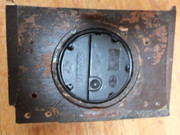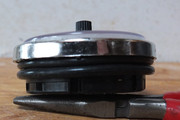 I also found something to use to look like the adjuster knob on the original clock. This is a bicycle Presta valve cover, with the base and top cut off and the very tip cut off the top and bunged in the hole cutting the top off left in the fluted bit. If I've glued that knob on well enough, it should help in pulling the clock out to change the time and battery. Otherwise it's one of them specialized tool jobs. Or use a screwdriver and lever it out.
I also painted the second hand with some mimosa yellow smooth Hammarite, and made some better hands from some 1mm white plastic scratch modeler's card - better than the ones made of photo paper anyway.
It's a bit of a shame that the chrome-ish bezel got a bit scratched up while I played with the clock. But then these clocks are only about £3 each, so it's not a big issue.
The next task is how to illuminate it.
Graham