Quote:
In some ways what would be nice would be to gut the original case and fit a modern mechanism. I have a spare broken clock somewhere, might give it ago
Despite what I initially thought, these £3 65mm Chinese quartz clocks will fit in the original case and give access to the battery without taking the glove box to bits.
I took all the guts out of a Kienzle one that has one of the three clip springs broken and, with a little stilling of the heart, cut the front off the green plastic part. I filed the flange off the clock insert that the clock's original bezel clips to, pealed the face off and Araldited the front of the green plastic to the front of the insert. Then I put the face, the clip for the front glass, the black and silver blanking disk, and the glass from the Kienzle clock into the green part, and Araldited it all together. I also glued up the adjustment mechanism so it can't be pushed and catch the hands.
Then I took it all apart and put on the two hands I'd made from plasticard and the second hand I'd painted mimosa, and glued it together again. The results, after that clock-up are not as good as they were the first time, but it'll do.
So, with the empty Keinzle clock body in the dash, Frankenstein's clock insert fits into it from the front, then the original bezel (my least good one), with the crimp straightened as best I can manage, goes in after the insert, with a 4mm x 54mm ID O ring replacing the dried out seal in the back of the bezel: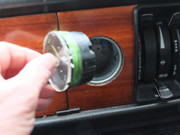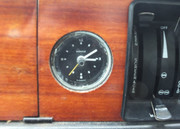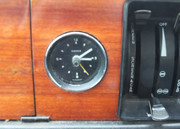 The slightly fat O ring keeps the bezel just a bit off the glass so I can get fingernails in to pull the bezel out, then use the knob on the glass to pull the insert out.
The problem that remains is that, even with the bulb that was too bright for the original Kienzle clock, the illuminations are a bit lacking: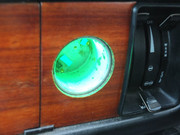 I may find a still brighter LED, or fit a couple of small ones up close. But then, it is just the clock.
Graham