It turns out that there's a possible problem with these intermediate clocks, i.e. ones that sweep the second hand smoothly (about 4Hz steps) not step every second like the quartz ones, but don't go clunk every minute or two like the electrically rewound ones. These clocks have an escapement inside that uses a couple of static coils and a couple of magnets on an amature, the coils used as a sensor and a magnetic driver for a two transistor pulse generator, working against a hair spring as an escapement.
The problem is that the glue used to hold the magnets on the amature doesn't last. While they still stick to the amature magnetically, given a good knock the magnets can move in and out relative to the centre. That changes the time constant of the amature and spring, like changing the length of the pendulum in a grandfather clock, and they run faster or slower, possibly by more than the adjustment on the hair spring can compensate for.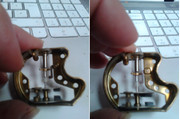 Hopefully, the picture above shows the top magnet can move. On the left, it's about where it should be. On the right I've moved it in as far as it will go at one end. This would make it run seriously fast, and moving it in by even less than a millimeter seems to be enough to make it run so fast the adjuster can't correct.
I've got two here where one of the magnets had come unglued and could slide on the amature and change the time constant. So this is not an isolated failure. The one pictured above is the one where the bearing has gone and the clock can't be fixed. The other works, but was gaining tens of seconds a day at the slowest it could be set.
So I've re-glued the magnet to the armature on the working one. The worry is that the glue, in effect, moves the mass out a bit, and slows the clock too much. So I used the smallest drop of superglue gel I could get in there. And I must have got it about right, because it now runs slow at one end of the adjustment and fast at the other.
Fixing this problem with the magnet does mean taking the bezel off. And that's a problem in its own right because the bezels are generally a bit brittle and will tend to split. So much so that the splits are visible when it's all back together and in place. But with care, and the right tooling, it is possible to get the bezel off and back on, and fix one of these that won't adjust to run right, or needs re-setting if you hit a big enough bump, etc.
Graham