From the state of the engine when it was reconditioned in 88 or so, I'm fairly sure that the crank in the 78 ym TR7 Sprint was not a replacement: It fitted with the supposed approx. 57,000 miles when I got it. But some of that was on the Belgian Pavé at BL's test track in Solihull (Webb lane or Load lane?) with no protective coatings and equipment to spray salt water into all the soft spots under the body. So that had rotted a bit. But the engine wasn't in too bad a state before the garage it was in burned down.
But I suspect the engine is much earlier than the car it was used in, because these hundred or so CH engines were made as part of the SD2 programme that ended in 1975, and only later used in the production of the TR7 Sprints to keep the 16-valve TR7 in competition when the TR7V8 was delayed.
It's the ancillaries that are special on the TR7 Sprint engine, not the engine itself, so that's not an obvious deduction. But, given this additional evidence of an earlier engine part, It starts to seem credible to me.
I still think that SD2's EFI system (which is nowt like the TR7's) would have made a great addition to the production Dolomite Sprint - supposedly giving about 170bhp at the flywheel: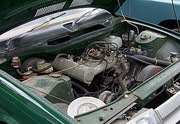 There's some discussion of the bunging of one of the journal holes on the cross drilled crank here:
https://forum.triumphdolomite.co.uk/vie ... php?t=3484
But this, which apparently came originally from Ken Wood, don't suggest this stops the crossdrilling having any effect.
Graham