As a K reg this will most likely be a FWD model and as such, rare as hens teeth. Last time I looked there were only 7 left roadworthy in the UK. Unfortunately this rarity doesn't translate to enormous value and the 1500FWD is not particularly coveted. It also has some hard-to-find unique model parts (mechanically) that can make it problematic to restore. I haven't seen a really mint one offered lately but I was able to buy one last year, running and driving but not MOT worthy by a good few hours of welding (I know it's MOT exempt but as far as i'm concerned, if it wouldn't pass, I won't drive it!) In rare Slate grey with blue cloth trim in good order, I paid £675 last August. It needs 2 new front wings, inner and outer front panels a few other small bits and a coat of paint.
Impossible to value one sight unseen, but if it looks reasonably tidy and complete, i'd suggest, as a non running garage find in need of at least a full recommissioning, an absolute max of £1k with a sensible range around £5-700.
Not mine this one, but the same model in the same colour!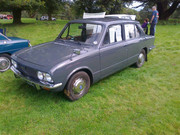 Steve