Quote:
Trying to redo the calculations, I've been back and looked for what I have and find this drawing. Can we confirm that it's at least close to correct in the dimensions for the placement of the pads and pistons for the Sprint and Sierra front brakes?
I suspect the difference between the centroid of the pad and the centre of the Sierra piston isn't important. So a measure from hub to piston centre, which should be easier to make, will probably be enough at the level of accuracy that's needed here.
Graham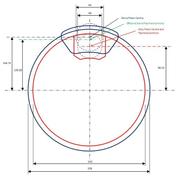 I've studied both pics and both seem to contain the same error expressed different ways as regards the Sierra piston placement.
In the first drawing, the Sierra pad/piston placement is correct, there is a slight overlap of the piston to the body of the pad at the outer edge (in real life, pads have a small crescent bulge to accomodate this, not shown in the drawing, but its lack is immaterial to our calcs) but the pad/disc placement is wrong, showing the body of the pad overlapping the disc by maybe 5mm or so, this is not correct, the body of the pad starts around 1mm IN from the edge of the disc.
In the second drawing, the disc/pad placement is correct, but the pad/ piston placement is incorrect meaning that in both drawings the piston centre for the TJs is too far out by 5mm or so (I can't be more accurate than that without scaling the drawing and measuring, something my computer skills arent up to, i'll try to calculate it from available data for my next post)
However, I agree that once that error is corrected, we should have a basis to calculate from, everything else seems satisfactory.
I also have some used Puma pads in my garage which were marked in service by the piston on the piston side face and clearly show the relationship between pad and piston placement. I'll take a pic tomorrow, too cold, wet and windy to go out there tonight.
Steve
Will that give the distance between the centre of the piston and the centre of the hub? There may be a small correction needed if the centre of the piston isn't exactly aligned with the centroid of the pad, but I don't think it could ever be much.