I don't think these strained analogies are moving us forward, though that's clearly an irony in a discussion about brakes. And my value of Young's modulus of elasticity isn't up to this level of strain - too much stress.
This is the best I can manage as a drawing of what I see as going on between a single piston and two pistons both in fixed callipers - remembering that the caliper is, in both cases, fixed to the same structure as the disc.
It shows the main pressures (blue), forces (red), and moments (green).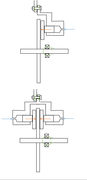 As I hope can be seen, with the single piston caliper, there's unit force on one pad and a moment on the hub as a result of that. There's also a different moment on the caliper mount - same force but different length and opposite rotation.
But with the two piston caliper, there's the same force on two pads, i.e. twice the total. It's spread over twice the area, but Amontons' law says that area of contact between the two surfaces doesn't matter. Hence in that situation of twice the force, there's twice the brake effort. This is all that really matters in the analysis of brake effect - its the hydraulic pressure times the sum of the piston areas.
If there was a second fixed pad in the case of the single piston caliper and the hub bearing had enough movement to let the disc push up against it there would still be the same force between the two pads as there was on the one pad, i.e. half of what there was with two pistons (hence half the compression in the thickness of the disc), but over twice the surface area. And, as said, area not mattering, the brake effort would be the same as before. It would not give the same effort as the two piston caliper, because there would be half the force, so half the effort.
What happens in the single piston sliding caliper is the same as the two piston fixed caliper because, as said, the force from the back of the cylinder, which is free relative to the disc and suspension, is hooked around and applied through the slider to the second pad.