Basically, I thought the whole point of that air gap and the hole in the side of the block was to prevent the possibility of water running into the oi that way. Am I wrong in that?
Here's the cross section through the pump from the Triumph slant-four engine training manual, where I've highlighted the air gap between the water and oil in red. It don't show very well, but the right hand end of that gap is open at the side of the block. I've not cut a block up to check, but I'd guess from the way they are cast, the gap has to be wider in height at the front than the back, so the bottom face of the slot ought to slope down to stop water pooling in the back of it. That's not shown in this drawing though.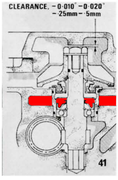 So I can't see from that where there's a path from the water impeller chamber to where the jackshaft runs without either running down the side of the block in vast amounts or that someone has deliberately filled that gap to stop it running down the block. I have seen that done, but it's kind of obvious when it has been.
Hence, if water runs down either the outside of the brass cage, or down the drive shaft, surely in both cases it has to cross that airgap to get to the oil?
Is there a path or mechanism for water to get past that air gap without it coming out the side of the block that I can't see?
Graham