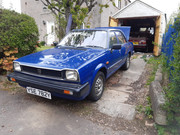 I've had to admit defeat, it's got me a bit baffled!

So, it spins over fine and quickly. It seems to cough a tiny bit, usually on the first turn of the key, just enough to kick the starter out and then dies. No hint of it running at all.
So far the following has been carried out:
Starter motor replaced with a refurbished one, then taken back out and the original fitted, just in case. Both were tested off the car and seemed fine.
All the starter solenoid connections taken off and cleaned and replaced.
The two chassis earths and engine earth have been removed, cleaned and replaced.
Spark plugs taken out and cleaned.
Points cleaned and gap set.
Swapped the rotor arm.
Dashpot oil replaced.
Air filter removed to check the carb piston wasn't stuck.
Tried retarding and advancing the ignition timing.
If you pop the dizzy cap off so the car won't try and fire it spins over fine. Spark seems decent, at least decent enough to run the car, and it's firing on all four. It almost seems like it's flooding, but it ran fine the last time it ran so I'm confused as to what'd be causing that to happen...
Both starters also sound quite rough when disengaging, making a grinding noise. The teeth don't appear to be badly damaged and the flywheel also looks to be in decent nick so I'm unsure as to the cause of that as well. One starter is old and fairly worn but seems functional, the other freshly refurbished. The spacing plate is present and correct.
I think next time I pop over I'll bring the compression tester and see if we're getting good numbers just as a matter of course, although the engine turns by hand fine and you can feel compression.
Any advice before I start fiddling with the mixture? I'm a bit loath to mess with the carb when the car was running with the same setup just a couple of weeks ago...