If you replace the bushes at both ends of the tie bars (Radius rods) a point to consider. I will be interested to read other owners views.
I have read a number of times that if you replace the suspension (trailing) arm bushes it is best to fit a rubber bush at one end as if you fit poly at both ends you get a lot of noise from the rear axle transmitted to the body. I just wonder if you replace the bushes in the tie bars should you also fit rubber at one end to ensure to do not get noise from the rear axle transmitted to the car body?
I have only ever replaced the rear end bushes of the tie bars. I will add the handbook amendment on fitting tie bar rear end bushes for info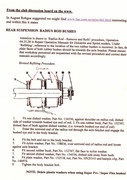 I believe that the central metal tube in the front tie rod bush is longer than the width of the tie rod and if the bush is fitted in the centre of the tie rod this will allow the tie rod to move slightly to the left and right. The one in James photo could not move both ways. I hope this makes sense.