Quote:
Just put a wide tie wrap loosely around the rubber mount and the problem is solved. It limits the movement and stops the mount splitting.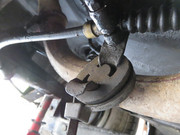 Yes, they work pretty well on original mild steel exhausts like the one pictured. You can see the U shaped hole in the rubber conforms closely to the U shaped channel in the mount bracket on the pipe. But modern aftermarket and stainless systems have a steel rod above a shaped piece which gives a much bigger and different profile and won't altogether fit in that U shaped hole in the stock rubber. It puts so much strain on the rubber that they either break during the fitting process or soon after. Nor have I found it possible to relieve the rubber satisfactorily (I DID try!)
If it needed a tie wrap, the factory would supply one. In truth, you could do away with the rubber and just use a tie wrap. I actually did this on a Sprint recently, which I took for MOT. When I left home, the original type rubbers though over a year old, were all in place and intact, on arrival at the testing station, 9 miles away, only one out of 7 was still in one piece, I had to strap it up to get it home and the ubiquitous cable tie (x6) came to my rescue. This car is fitted with a SS pattern copy of the original exhaust. It now hangs from 3.5 EMR001s, each cut in half, unusually for a SS exhaust, nothing bangs or scrapes! That's good enough for me!
Steve
Edit. Here are a couple of pics of a Rimmers (I think) SS system fitted to a Sprint I was working on last year but the style is now universal, even the club exhausts are like this. The top picture shows clearly the difference in profile between the original upper mount bracket (on body) and the SS exhaust mount (lower)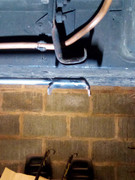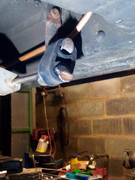 The lower pic shows a 1/2 EMR001 fitted, the larger rounder hole means the rod and plate bracket has room in the rubber. The whole thing admittedly DOES hang a few mm lower but it's not enough to cause a problem. Since OE mild steel exhausts are effectively unobtanium, we are all going to have to adapt, the EMR001 is a practical and viable solution and it's not expensive.