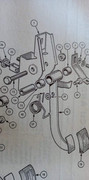 With thanks to 'Trust No1' , this is the 1300 fwd exploded diagram which gives part number 143191 for item 17, the return spring. Clearly, this is a different part number to the Dolomite, but the drawing is very similar to the Dolomite item which is pictured below: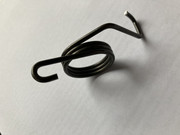 'Trust No1' tells me that both the pedal and bracket are different to the Dolomite equivalent, so maybe the part gained a new number when the other two components changed? Maybe there is a subtle difference though, diameter of coil perhaps, which justifies the change in number?
At £14 and absence of alternative, maybe it's worth a try?