Quote:
The twin 1.5" SUs from the 1500 will indeed bolt to the 1300 head, but it's not that simple, you will also need the 1500's twin downpipe exhaust manifold and therefore the twin downpipe too. Then some careful work on a rolling road to get the jetting correct for the smaller engine (it is do-able, but not cheap) It's probably not worth the bother either, unless you intend to fit a bigger valve head and a better camshaft.
If it had been a matter of simply substituting SU carburettor-jet-needles of already known specification, for an otherwise factory-standard 1300 engine, I might have considered it. I will only go to the time, effort and expense of doing cylinder-head work and/or replacing the existing camshaft & cam followers, if there is a need to overhaul the engine. When I last used it about 18 years ago, it was still running quite nicely after only 101 thousand miles and the crankshaft still turns easily with a plumber's wrench, so I know it hasn't seized.
Quote:
During the late-1970s, I retro-fitted North American specification rear side-marker lights cum reflectors & front side-marker reflectors to our 1973 VW 1600 Type 2 campervan and will be upgrading it with front side-marker lights cum reflectors before I put it back on the road. I am still contemplating how best to implement this upgrade on the Toledo.
Quote:
I'm not sure of the legality of side marker lights in the uk, or at least of the US pattern amber variety! Triumph Stags retain the amber front one from the US spec cars, but without a bulb holder fitted, so it's only a reflector. But if you are set on this course, may I suggest the side marker lights from a US spec Triumph TR6, the TR body being a generally similar overall shape to the Toledo they shouldn't clash too much with the styling. With the number of US spec TRs being repatriated these days, it shouldn't be too hard to find a set either.
Several years ago, I checked the Road Vehicles Lighting Regulations, pertaining to pre-1983 vehicles like mine, regarding the permitted colour and position of side-marker lights and concluded there would be no problem with legality.
http://www.legislation.gov.uk/uksi/1989 ... tents/made
Regulation 11 - Colour of light shown by lamps and reflectors
http://www.legislation.gov.uk/uksi/1989 ... on/11/made

(1) No vehicle shall be fitted with a lamp which is capable of showing a red light to the front, except–

(b) a side marker lamp or a side retro reflector;

(2) No vehicle shall be fitted with a lamp which is capable of showing any light to the rear, other than a red light, except–

(a) amber light from a direction indicator or side marker lamp;

Regulation 20 - Optional lamps, reflectors, rear markings and devices

http://www.legislation.gov.uk/uksi/1989 ... on/20/made

9 Side marker lamp - Schedule 9, Part II and Parts I of Schedules 2 to 5, 7, 9 to 13 and 17 to 21 to the extent specified in Parts II of those Schedules.

16 Side retro reflector - Schedule 17, Part II and Parts I of Schedules 2 to 5, 7, 9 to 13 and 17 to 21 to the extent specified in Parts II of those Schedules.

Regulation 22 - Additional side marker lamps
http://www.legislation.gov.uk/uksi/1989 ... on/22/made

1A vehicle or a combination of vehicles the overall length of which (including any load) exceeds 18.3 m.

There shall be fitted–

(a) one lamp no part of the light-emitting surface of which is more than 9.15 m from the foremost part of the vehicle or vehicles (in either case inclusive of any load);

(b) one lamp no part of the light-emitting surface of which is more than 3.05 m from the rearmost part of the vehicle or vehicles (in either case inclusive of any load); and

(c) such other lamps as are required to ensure that not more than 3.05 m separates any part of the light-emitting surface of one lamp and any part of the light-emitting surface of the next lamp.
For the United Kingdom, front and rear, amber side-marker lights cum reflectors, are universally acceptable, provided they are positioned within certain distances from the front and rear extremities. One can also use intermediate amber side-marker lights between the front and the rear, but on most cars this would probably be impractical. There are also provisions for using white side-marker lights at the front and/or red side-marker lights at the rear, but there are restrictions pertaining to rearward and forward zones of visibility respectively.
One of the conflicts with DOT – Department of Transport lighting regulations in the USA, is that their front position lights (i.e. side lights) are amber and typically mounted in the same lamp unit as the direction indicators. On the USA specification, 1973~79 VW Type 2, the front direction indicators, front position lights and front side-marker lights, are all incorporated within a single front-panel mounted lamp unit, using a twin-filament 21/5W bulb and a single-filament 4W or 5 W bulb.
I possess some USA spec, VW Type 2 lamp units of this type, but I shall be converting my cab-door mounted, amber front side-marker reflectors into amber side-marker lights cum reflectors, using bulb-holder back-plates of the same type that were specified for the red rear side-marker lights cum reflectors. I will also substitute amber lens in place of the red lenses for the red rear side-marker lights cum reflectors. This will enable me to use these lamps for the dual purpose of side-marker lights and direction-indicator side-repeaters.
Quote:
Whether one needs long-range driving lamps (aka auxiliary driving lamps) would depend upon how effective the existing or replacement headlamps might be. I have long considered that some driving lamps with a range intermediate between main-beam and dipped beam would also be desirable.

I have wondered about substituting onto my Toledo, a set of four second-generation, Bosch or Hella, 5¾ inch ellipsoidal headlamps (of the type that were factory-fitted to 1980s vintage BMWs), whose mode of operation is said to retain the dipped-beams from the outboard lamps and overlay them with the main-beams from the inboard lamps.

By inter-connecting the Triumph headlamp dip-switch's output connections (blue/ red and blue/white cables) and incorporating a blocking diode, one could convert the Triumph to this mode of operation. These lamps could also be equipped with modern higher-intensity, enhanced quartz-halogen bulbs, of nominally the same electrical power consumption.
Quote:
I've considered the BMW headlights myself. And the so called "angel eyes" which have a sidelight which illuminates the periphery of the headlamp unit. A lot of other moderns which have 2 lights in 1 housing operate the same way too. Since i shall be using relays to protect the dipswitch, I COULD use the relays as one way switches to create this operating pattern. However, since I already have a set of bulb type headlamps on the standard pattern and a pair of brand new Lucas "Square 8" long range driving lamps, i'll probably go with these, with the Square 8s set to the medium range as you suggested.
The steering-column mounted, headlamp dip-switch seems to be one of the least reliable components of the Triumph Toledos & Dolomites and other cars which are equipped with this design of Lucas component. I have had problems with these in the past and it was owing to an ill-timed failure of this that led to one of the rare MOT failures of my Toledo, which normally sailed through without a hitch. I think these switches now retail new for about £65, but for how much longer they will continue to be available, is anybody's guess!
I have already incorporated Hella 40A accessory relays (salvaged at the car breakers' yards, during the 1990s) to protect the VW Type 2's headlamp dip & flasher relay, from the demands of the 100/80W H4 headlamp bulbs and I shall be similarly upgrading the Toledo's headlamp circuit with similar accessory relays to protect the Lucas dip-switch, irrespective of whether I retain the existing pair of 7 x 5¼ inch rectangular 60/55W H4 headlamps or substitute a set of four 5¼ inch circular quartz-halogen headlamps (BMW ellipsoidal or otherwise).
Although 7 x 5¼ inch rectangular generic LED headlamps are now available, they are presently much too expensive (about £450 per pair) for me to even consider. It's questionable whether H4 substitute LED bulbs have the necessary configuration for correct optical focusing by conventional H4 headlamp reflectors.
I have seen BMW "angel-eyes" headlamps, which I think uses some form of fluorescent tube rather than LEDs to create the halo effect. If these produce sufficient light intensity and light-distribution geometry, to comply with the specifications for daytime running lights, this would be a neat and tidy way of retro-fitting daytime running lights. However, I get the impression that these 5¼ inch circular "angel-eyes" headlamps are quite expensive!
Quote:
I have also wondered about the factory-standard, 2-terminal direction-indicator flasher and 2-terminal hazard-warning flasher. If one were to use LED bulbs in the direction-indicator side-repeater lamps, the additional current load would probably be minimal.
Quote:
I'm pretty sure that using LED bulbs, with their much lower current draw, will render the stock flasher units with their bimetal strips, inoperable. At the very least, they will have an illegally high flash rate, even with an extra 5w bulb in the system. To make my life and circuitry easier, I shall just be replacing my 2 stock 2 pin flasher units with a pair of similar 2 pin electronic types. I've used these on the Carledo and they work fine, no matter what the load on the car's system, they always flash at the same rate.
If I recall correctly, the permissible flasher frequency for direction indicators, is 60~120 flashes per minute (i.e. 1~2 Hz).
What I had in mind, was that one would retain conventional 21W incandescent filament bulbs for both the front & rear direction indicators, whilst using LED bulbs solely for the direction-indicator side repeater lamps.
Having a relatively high-resistance, the LED bulbs in parallel with the relatively low-resistance incandescent filament bulbs, should introduce a negligible reduction in the overall circuit resistance presented to the flasher units, so any change in the flash rate might be barely perceptible. You can check this by using the simple formula for calculating the overall total resistance RTOT for N resistances connected in parallel:
1/RTOT = 1/R1 + 1/R2 + 1/R3 + . . . + 1/RN
The mechanism by which electronic flasher units operate is independent of the load they cyclically switch on and off, so the only concern is that one does not overload the flasher unit.
Quote:
I am considering updating the system with a single 4-terminal flasher, which combines the functions of both the direction-indicator and hazard-warning light relays as well as providing a connection for a warning-light repeater for a trailer's direction indicator, without the need to retro-fit a "Transflash" unit, which are possibly now unobtainable or expensive.
Flasher relay labelled RFL 3, is a commonly used type. Flasher relay labelled RFL 6, is identical in function to RFL 3, but has the additional facility, for trailer's turn-signal warning light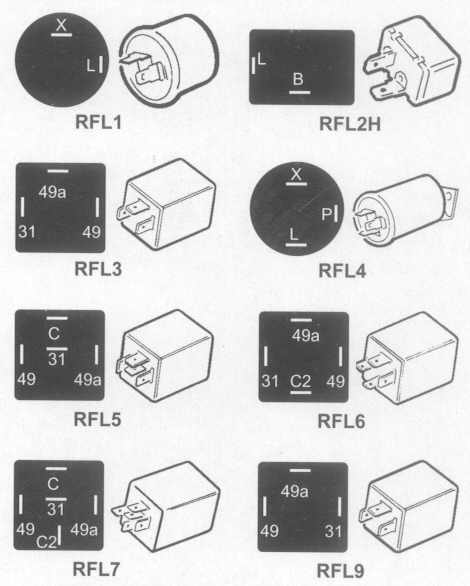 This six-position, relay mounting cum connector block (dimensions 110 mm x 75 mm x 25 mm), made by Rists (a division of Lucas Industries), is one of several, I salvaged from various Austin Montego & Rover Montego cars. They were also fitted to the earlier Austin Princess.
A similar item, of identical dimensions, was also fitted to late-model Austin Metro cars. I have used two such items, suspended unobtrusively, beneath the steering-column support bracket, of my British specification, 1973 VW Type 2, to make provision for, an additional twelve accessory relays.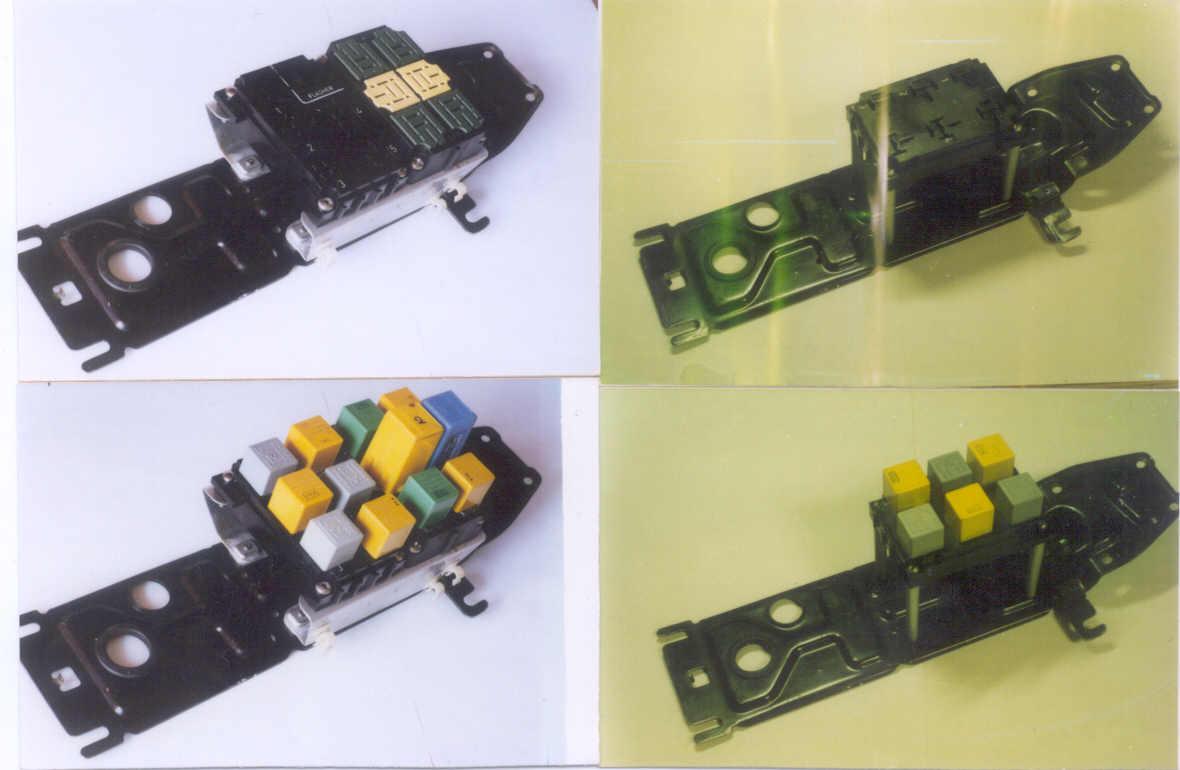 I have recently stumbled upon a source (3 Way Components, in Luton, Bedfordshire) of two types of new Lucas-Rists, six-position, relay mounting cum connector blocks (dimensions quoted as 111•20 mm x 74•90 mm x 26•00 mm), which appear similar to those originating from Austin Montegos. One accommodates relays with up to five 6•3 mm spade connectors, whilst the other accommodates relays with up to five 6•3 mm spade connectors and/or up to four 2•8 mm spade connectors. Prices including VAT, are £5•50 and £7•95 respectively
http://3waycomponents.co.uk/Relay-Holde ... s-51158524
http://3waycomponents.co.uk/Relay-Holde ... Holder-Kit
Quote:
I WILL be fitting a towbar to the Dolomega, but I will be using a warning buzzer (I have several) rather than a light for trailer indicator warning to keep it legal. Hopefully, with the buzzer mounted in the well insulated boot, it won't be loud enough to annoy me!

On relay boards, I salvaged an enormous relay box from the donor Omega which also houses the engine ECU and happens to fit neatly into the vacant under-bonnet space forward of the n/s suspension turret. Besides the ECU, there is provision for up to 14 relays in it, which should be adequate for my needs!
Do you think you will be able to hear that trailer's direction-indicator warning buzzer in the "well-insulated boot", amidst the cacophony of road, wind and engine noise, when you are actually on the road, towing a trailer, horsebox or caravan!?! Does that buzzer have a sound frequency spectrum which is easily distinguishable from other buzzers used on that car?
Sadly, there now seem to be few if any car breakers' yards, where one can simply browse and personally salvage items of interest. During the 1980s & 1990s, I spent many happy hours in the local car breakers' yards, investigating the possible adaptation and re-use of components and systems for my family's vehicles.
I too would like to find an inexpensive, splash-proof, combined fuse cum relay box which can be easily accommodated in the Toledo, which is also easily accessible to inspect and replace fuses or relays as necessary. Where best to site such an item and how best to route the necessary cables, is still open to question; the areas forward of the suspension turrets being taken up by the battery on the nearside and the cooling-system expansion tank on the offside.
http://www.ebay.co.uk/itm/5-Way-Automot ... SwwzhZR5f9
http://www.ebay.co.uk/itm/5-Road-Automo ... SwHsRYEHHH
In the 1973 VW Type 2, I have used a modified, combined fuse cum relay box, originating from a Vauxhall Cavalier Mk.2; using a modified, supplementary dual-fuse holder underneath, to mount the VW's headlamp dip & flasher relay, with unique five-terminal configuration. Intriguingly, I discovered that the brass fuse-holder inserts from a Mazda fuse box were compatible, so I was able to substitute some of these having common power supplies for multiple fuses (typically two, three or four, if I recall correctly).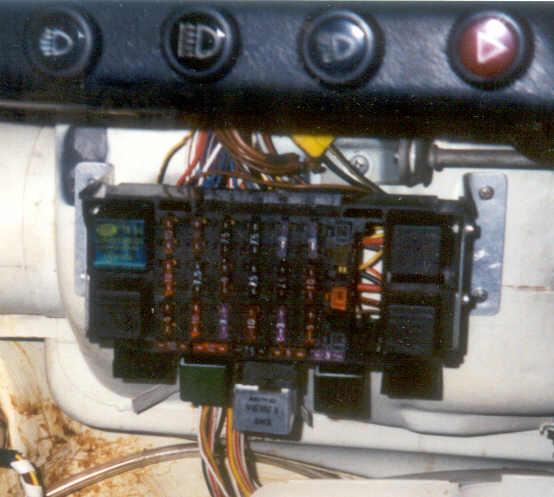 I previously designed and fabricated a custom wiring loom for the 1973 VW "1600" Type 2 (about five or six times more extensive than the original factory-fitted wiring loom), so repeating the process for the Toledo shouldn't be too daunting.
Quote:
I have not come across "gutter illumination" in the bottoms of doors, which might have its merits in some circumstances, such as avoidance of placing ones feet in puddles or onto squishy mud or other undesirable surfaces, when it's pitch black.

I am contemplating the retro-fitment of red lights in the interior rear portions of the doors, having salvaged a nice set of four matching lights of this type, from a mid-1980s vintage Honda Accord 1800 Executive saloon, during the early-1990s. This should be relatively simple to implement on the front doors, but whether there would be sufficient clearance between the backs of the lamp units and the wind-down window-glass of the rear doors, I have yet to investigate. One could also affix some red and/or amber reflective tape to the interior trailing edges of the doors.

As with B-pillar mounted direction-indicator side-repeater lamps, there is the question of how readily one could route the necessary wiring into the B-pillars. Provided one created a reasonably long vertical dog-leg between the holes in the A-pillars or B-pillars and the leading edges of the doors, there should be relatively little flexing of the wiring when the doors are opened & closed, and hence little risk of long-term fatigue-failure of the wire filaments.

The challenge might be to source some suitable sleeved, angled cable grommets and compatible cable-sleeve, to incorporate into the installation. One could also use these grommets & sleeve, to route cables for door-mounted audio speakers. An alternative might be to use spring-loaded contacts, similar to those used on the rear hatch of the Vauxhall Astra Mk.1 estate car.

There should be little if any difficulty in principle, in co-ordinating the operation of the red lights and "gutter illumination" with the activation of the doors' courtesy light pin-switches and the side lights, which could be achieved using a simple electro-mechanical changeover relay or semiconductor logic gates. If one wanted the lights for each of the doors to operate independently, whilst retaining normal interior courtesy-light function, I would need to give this some more thought. The simplest way, would probably be to duplicate the doors' pin switches.
Quote:
I'm sure a bit of scrapyard searching will provide suitable grommet/sleeve material, the ones used on the rear doors of my MkIII Cavaliers, for example, would probably do the job. More thought on the subject of gutter/red lights has brought me to the conclusion that both are only really needed at night so could both be fed by a single, sidelight live into each door (economy of wiring) By using a courtesy light switch mounted in the front face of the door itself, no earth return would need to traverse the door gap (more economy of wiring). The only imponderable in this theory, is whether the door hinges/checkstrap will provide a reliable enough earth route for the door when it's open!

It occurs to me that my front doors will have (even with all these economies) a minimum of 7 wires each going into them (2x radio speaker, 2x electric window actuation, 2x central locking actuation and 1x sidelight feed) My donor Omega had over 20 wires going into each front door, via large plugs on the A posts, but moderns have MUCH thicker doors and posts than Dolomites! I don't think it would be practical to use the Astra estate contact switches, for one thing, they need a flat surface to fit to, but more importantly, they only power the circuits when the doors are closed, this could be very frustrating!
I had momentarily forgotten about the Vauxhall Astra estate's spring-loaded contacts (not switches!) only being effective, when the rear hatch was closed. I originally investigated these as a possible way of providing electrical supplies to my 1973 VW Type 2's retro-fitted heated rear window, rear-window wiper and high-level brake light. As you pointed out, one needs sufficiently flat surfaces with a reasonably large gap-separation to use these!
Provided the internal surfaces of the Dolomite's door-hinges are not rusty, the hinges and/or associated mounting bolts, will probably provide a more than adequate Earth return, for any door-mounted pin switches. You should be able to test the Earth path using a test-light and or ohm-meter.