I was after a different bit of tinkering over the Christmas break, and as I always fancied a proper mechanical clock, I bought a sorry looking one off eBay for £20. It was more or less intact in the photo but the courier turned it into a kit that you can see below. In fairness to the courier, the seller had just sent it in a bin liner with a couple of bits of cardboard for company.
Surprisingly nothing was actually broken but had just come apart and it was somehow all there including the key. Having now seen the terrible bodywork finish, complete with brush hairs and white gloss paint splats, and stinking of pipe smoke, it was beyond just a clean and oiling so would have needed to come apart anyway.
Attachment:
clockmontage.jpg [ 446.9 KiB | Viewed 1196 times ]
A lot of scrubbing, sanding and french polishing later, it looked quite decent. Yes, I really did go down the french polishing route rather than a simple Danish oil or varnish finish, wanted to put my CSE in woodwork to some use! The door was glued back together, the rusty case screws replaced with new brass ones but keeping the original side latch, the case was finished.
That just left the movement to look at, and after a cleaning dunk in an ammonia solution it came up all nice and shiny too. A new suspension spring and a light oiling were the final elements of the recommissioning work. And so yesterday afternoon, with a gentle nudge of the pendulum, to my pleasant surprise it sprang into life and its chime happily replaced Big Ben's at midnight.
Attachment: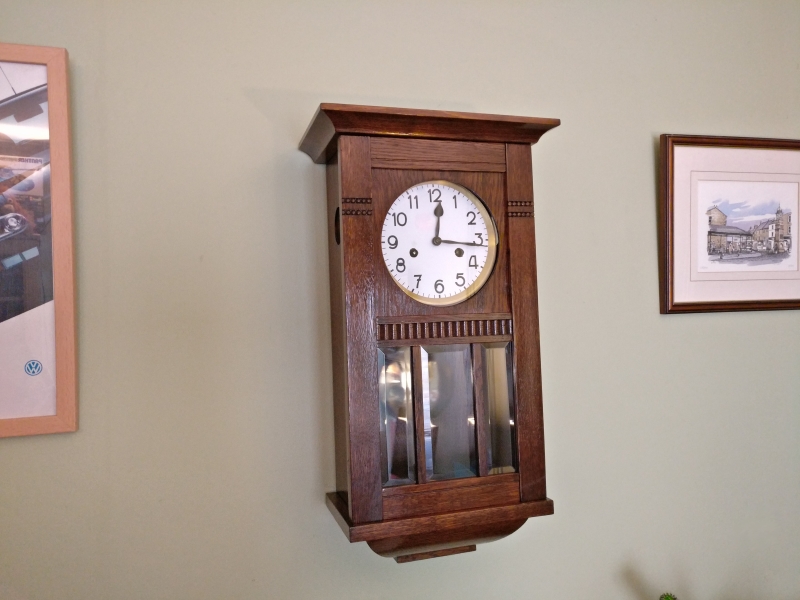 clockfinished.jpg [ 256.58 KiB | Viewed 1196 times ]
It's actually quite shiny but that meant it was really hard to take a good picture with my phone with the light behind, so here's a poor to the side view. Yes, that is a picture of Otley market clock to the right!
I grant you that this is so off topic that it needs to catch a bus to where it should be but you know, there are cogs, gears, suspension, wheels and the going train and with the bad weather I was in no mood to fix my bad earth or accelerator cable!