Quote:
Thanks for the compliments gents, but I fear I've hijacked oily66's thread. Sorry.

Tony, these things are not popular here. They were Fords opposition to the so called, local car, the FJ Holden. Despite the Consul/Zephyr/Zodiac being a superior car they were just a little more expensive and the Humpy Holden outsold them. They, Holden FX's & FJ's, have now reached cult status down here. As a result I would be lucky to get A$12,000 (7,000 pounds) for Purdey, but I know that if she was in the UK she's probably fetch double that. She's far from perfect though and needs her front struts rebuilding.

This pricing anomaly is the same for my Dolomite SPRINT. Down here its worth around the equivalent of 5 to 7 thousand pounds. But I'd guess that it'd fetch a lot more than that in the UK.

I am about to buy a Mk2 Zephyr ute. (Dependant on final price) Photo attached. The owner is presently tidying it up..... repairing some minor rust, repainting it a correct light green and swapping out the wheels and tyres for standard spec ones. Its mechanically very good, having a Mk3 Zephyr engine and 4 speed gearbox fitted. I hope to use it to transport vintage farm engines to rallies..... yet another of my "expensive" interests. Rare as rocking Horse Manure....even down here where they built 16,000 of them.

Again my apologies for hijacking the thread.

Cheers,
Rob
AW MAN! I have had more than a dozen MKII Zephyrs and Zodiacs (and a lone Consul) including 2 "hens teeth" Abbot of Farnham Zodiac auto estates. And I was for many years the official technical advisor to the UK MkII CZZ O/C. Always wanted an Aussie ute, but could never find one for sensible money (or, at the time, afford the shipping, which used to be much more expensive)
I am now as green as that ute is going to be, though I can't help feeling that I like it just as it is, a real 70s throwback custom job!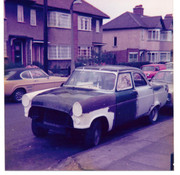 My only Consul, circa 1974, as you can see below, I started modding/customizing at a very early age!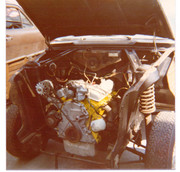 Steve