I have two blasting cabinets and one of the 5 gallon blasting "pots".
The small cabinet is like this one: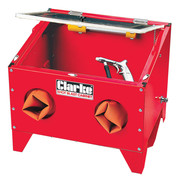 I have fine glass beads in it and use it for all the small stuff - brackets etc and also more delicate aluminium pieces. I have a Clarke Raider 50 compressor - 3HP, 14 CFM, twin cylinder direct drive with a 50 litre tank. When using even the small cabinet it struggles, the compressor runs all the time and it is noisy. Even if you start with a full tank the compressor cuts in after less than 2minutes. Blasting is not always a quick process so the compressor can easily be running for a long time if you have a pile of bits to do.
To be honest if you have a lot of blasting to do you need a bigger compressor. I have a 4HP (can't go much bigger on my single phase supply), 18CFM belt drive (quieter!) with a 100 litre tank I am building up as I am finding I am doing more and more blasting and also DA sanding!
I really think your 9CFM,( is that free air delivery or just compressor displacement - they are not the same thing!), will really struggle and the pressure will drop, which then means the parts take longer to blast clean, which means the compressor runs for even longer! It will work, but it will take a frustrating amount of time on anything other than a quick clean up, anything with heavy paint or rust will be a slow painful process, and I suspect the compressor will not live long before it seizes because it has got too hot.
To be honest the size of the blasting cabinet makes little difference. My compressor will drive the pot blaster OK as well. I just don't like it running continuously as it gets very hot!
If you do get a small cabinet like the one pictured then you NEED to modify it for vacuum extraction via a small cyclone filter, makes it run so much better and keeps it clear so you can see what you are doing. The so called filters on the Clarke cabinets are worse than useless and clog in minutes resulting in lack of visibility and also pressure in the cabinet which forces grit out of every orifice, this then means you have to wear goggles and a mask otherwise you end up with grit in your mouth and eyes, not pleasant. With the cyclone filter and decent vacuum cleaner you end up with negative pressure in the cabinet and absolutely no dust or grit escaping. The cyclone ensures the vacuum cleaner does not clog up.
https://www.ebay.co.uk/itm/Plastic-Dust ... SwuwBbUXOt
Cheap Chinese "rubbish" on eBay that actually works very, very well!

Roger