I have always been out of step with the rest of Australian society. The reason? When all my mates and their mates and so on were yearning for modified EH Holdens or Monaros or SLR5000 Toranas or GT Fords or 6-Pack Chargers, I was playing in the sandpit with odd little British or British derived cars. When all my mates were hooning merrily, I was staring despondently at the underpowered lump of oily metal under the bonnet wondering "WTF is wrong NOW!!!"

I had already had a Chrysler Valiant at age 16 in 1978, but I traded it in 1979 on the first of my wierd compulsion - a 1972 Morris Marina TC Coupe. It was pristine but ughh auto. The 1750cc E Series engine that powered this was not at its happiest bolted to a BW35. A worn out sedan was sacrificed for its 4 speed box. Ratios were wrong but what the heck. A suspension conversion kit was available at the time to give it *real*shock absorbers at the front and nice hefty roll bars and shocks. It actually handled!

Various beasties passed through my life. 54 Plymouth, 64 Dodge Pheonix, 63 Cadillac, a couple of Holdens (then worth nothing, now in mortgage territory) and my next encounter with BMC/Leyland - a Morris 1500 - An Australian variant of the ADO16 that had a slight restyle with a bonnet bulge hiding an E series 1500 with a 5 speed box. A loping lonf distance car that I loved immensely. I'd have one again but so few survive, I might have more luck buying winning lottery tickets.

A Triumph is found. About 1984, I noticed hidden in the shrubbery of a neighbours yard a grey shape lurking. All I could see wha the fornt end, and I loved it! Turned out to be a MKII 2000. The lady at the house said it did not run, but I could have it if I removed it. So yay me. We towed, rear wheels locked and screaming the three houses down to my place and it was immedietely christened the "Gray Nurse" (a species of shark).

It was battered but not revolting. Inside was black vinyl and a bit grubby and the woodwork was tatty as I found out it usually is in Australian Triumphs. First order..battery connected..no motion detected in any mechanical parts. Off with the head. Ahh seized. No worries says my optimistic mate and a can of WD 40 soaked the pistons and after a couple of days sitting, judicious use of a lump of wood and a mallet as well as a tow up and down the back alleyway and it unseized. This mechanic stuff is so easy, pfft! A tow start and she fired and ran. I drove the Gray Nurse for nearly a year, consuming almost as much oil as petrol but I was smitten. It was only a job offer in a location remote enough that I needed something more hardy and unlikely to die 200km from no where that saw it sold off. but I never forgot it..

A few years later I did get another Triumph.. A Sprint that was mechanically dire. I never did anything with it and it sat in my garage for a couple of years until a move interstate was in my future and so it too was sold off. Again..I remembered.

So..now I have a Sprint again. I will add a 2500 when I can find one I like and if ever one turns up, a Morris 1500, just because.

A small note about Australian 2000/2500 sedans. BMC/Leyland Australia had little to do with them. They were built and sold through Tiumph dealers under a long standing licence by a company called Australian Motor Industries. AMI also built Toyota Crowns and AMC (US) products like the Rambler and Ambassador. Anyway..on the lower front mudguard of Australian built Triumphs is an AMI badge. AMI was later bought out by Toyota and production all non Toyota products including the Triumph sedan ceased in 1980.
Attachments: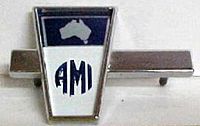 AMI.jpg [5.87KiB |Viewed 253 times ]

_________________
I once had a life. Now I have a Triumph.
_________________________________
75 Sprint
01 Ford Fairlane AU-II