Attachment: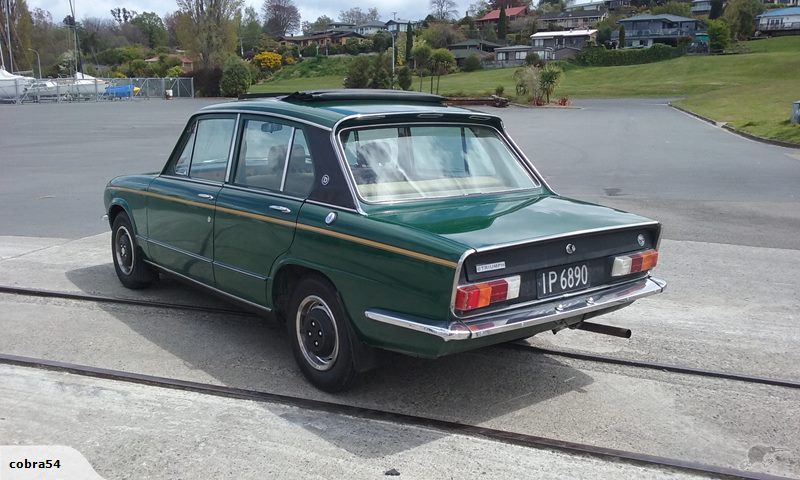 418202468.jpg [ 85.88 KiB | Viewed 2538 times ]
Hi all I've recently joined the forum and was recommended to join by Alun, whom im sure you all know.
My dolomite might be of interest as it is of British origin and was originally registered to a Mrs B Beamond of Little Brant Osmington Mills Weymouth. It is my understanding that she used the car in the UK and then moved to New Zealand early in 1978 and had the car shipped here. and from what i can gather owned it for a number of years before another gentleman purchased it who then died and i purchased it from a classic car dealer whom acquired it from his estate. The car spent all of its life in the south island and it appears to have been based in Christchurch. The car dealer had it shipped to him in Taupo. And it now resides in Dannevirke with me.
The car its self is a remarkably original Dark green Dolomite 1850HL automatic. chassis number of WF70653DLA. (i will attach a photo or two of the car) Most interestingly to me the car came with a few items of service history interest including a couple of recipts for some not so flash repairs, particularly to the drivers side front corner! but most interstingly to me the car was fitted with a Webasto sunroof before it left the UK and as a matter of fact the recipt fro the fitting of the 'black 1300 type roof' is still with the car to this day! and it would appear the car was fitted with this only 8 days into Mrs Beamond's ownership. The car to the best of my knowledge is rust free apart from two bubbles or the roof near the sunroof. The cloth interior is immaculate and it must have been well cared for over the years.
Now for those of you that are still reading i will run you through what ive done since ive had the car. which has only been since November 2015,
I have changed the oil pump, the oil filter and the seals in the transfer housing, and the carb rubber mounts as well as fitting a new fuel pump after the electric one ceased to function.
And very recently i have changed the steering rack and collumn for some in very good condition, renewed the tie rods and gaiters and fitted two new front shocks with rears to follow as time permits. this transformed how the car drives and feels on the road which does bring me to my next thing. the car as it sits is on the original wheels with 165/80 tires, a couple of times in the wet the front wheels have not done quite what i expected... fortunately not causing any harm to anybody in the process. I would however like to upgrade the wheels. I quite like the sprint ones, but it would prove to be very difficult to find some in New Zealand. I was told you can get new ones? my other alternative is some minilite style wheels which ive spoken to local tire man about and he is getting me more information.
So this post is largely to just to introduce you to me and the car and prehaps reach out to fellow Dolomite owners in New Zealand. who may be able to help me. I have read through some of the thread for HU5000 owned by Robert which kept my captive well into the evening. So feel very free to introduce yourselves. I look forward to hearing your replies.
Thanks heaps Kieran Ebbett
Ps the the photos are of when i brought it but not a lot has changed to what you can see.