Quote:

So that brings an interesting question. How can I tell if a car is a converted 1500 or 1850? Commission tags will only get you so far. Could be there isn't an easy way?
I've long said that, with Triumphs, identity is a matter of opinion and that the opinion that counts, is that of the guy holding the V5 (pink slip or title to you)
In the UK, the title is the big thing, if it's a Sprint title, all well and good, the car may have been reshelled into a lower spec body (this happens quite often, with the Dolomite's propensity to rot) but only a real anorak can spot the difference. So if the title says it's a Sprint, to all intents and purposes, it IS one! However in the UK, the model may not be changed on the title, so, regardless of how well it's been done (and a true anorak like myself can make it indistinguishable from the real thing) if it's built on a lower spec car with a lower spec title, it'll still say Dolomite 1850HL or Dolomite 1500 or whatever on the title, regardless of the power train installed. The stupid bit of paper therefore, CAN have a considerable effect on value, but not much else. There simply are very few ways to tell a low spec shell from a Sprint shell as they are all the same. A comm tag is next to useless as authentication since they are only riveted in place (2 minutes with a drill and 2 pop rivets to change one out) and none but the very last year cars have any numbers stamped into the shell.
The best advice I can give is, if you are thinking of buying a car from the UK, (since the stateside pool of cars is tiny) get some local anorak like myself to check it out for you.
If you are interested, this car will be available for sale soon, which IS a genuine series 1 Sprint in it's original series 1 Sprint shell and with title to match. It also has some useful driver oriented upgrades including (but not limited to) electric water pump, "Trackerjack" vented front brake disc conversion and Gaz adjustable shox. It just passed it's UK MOT yesterday, having been a restoration in progress for a number of years. The only downside, is, it's the relatively rare automatic transmission model which gives and takes away in equal measure, it's easier and more relaxing to drive, but lacks the "edge" of the manual car and is effectively lower geared because it doesn't have the overdrive facility. We'll be looking for around £7.5k UKP.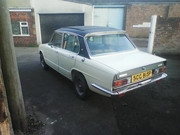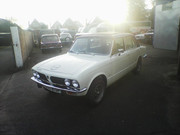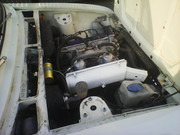 Hope this helps, Steve
PS, these pics are about a year old, it looks more finished now!