Hello everyone,
it is with a heavy heart that I put my beloved Nina up for sale. She has become just too much of a challenge for me to keep going. She has been a wonderful, wonderful car but it is time to let her go.
For sale: £2000
THE GOOD:
Very reliable - been my only car for 4 years and only once let me down when the head gasket went. Good sound with stainless steel exhaust. Idles nicely. Paint (where not rusty) pretty good. Good interior. Newish spare tyre. Maybe £100 in spares including original numberplates and a NOS distributor. Receipts for approximately £8,000 since 2014, including:
JUNE 2019
2 rear tyres £100
Fuel pump £50
MARCH 2019
Reconditioned overdrive gearbox conversion/upgrade including new clutch £800
Fitted NOS starter motor £35!!
January 2019
Fixed handbrake £85
December 2018
New alternator £75
October 2018
Brand new front windscreen £600
July 2018
New front tyres & subframe bushes £270
Also in my time with her, I've given her a new battery, new radiator, new front seats, new resprayed bootlid, rebuilt the carbs, LOTS of oil changes, rebuilt brake master cylinder, front seatbelts, alloy carb mounts, ignition barrel, wiper arms and about 50 rubbers and gaskets.
Also had the head gasket replaced including head rebuild totalling approx £1,350 in March 2017.
THE BAD
It looks like the fuel tank is leaking.
I found some from WINS INTERNATIONAL for £175
, and with any luck its not actually the tank thats the problem. I've just had to call it a day with the constant repairs, enough is enough.
The overdrive works about 30% of the time. I'm pretty confident the solenoid needs replacing. About £90.
The indicator stalk is broken meaning the full beam doesn't work. The flash does, and the bulbs/circuit is fine. Everything else works on it. About £50.
Steering column u/j is stiff and needs cleaning up, maybe replacing.
Clutch master cylinder would benefit from a rebuild (black fluid) but works perfectly. Been that way a year. Already have the kit ready (It was on the to-do list).
Front quarter rubbers on the doors leak. NLA as I'm aware.
THE UGLY
Lots of rust. N/S rear sill has a hole. Bottoms of all doors, both wings, around the windscreen. Under the boot pretty bad. Carpet rotting under front doors.
---
Nina is a great car looking for some TLC. She has been driven about 15,000 miles a year for 4 years. Speedo reads 55,000 estimated 90,000. Original bill of sale, receipts back to 1983.
She is in Sussex with me. Pictures exactly as she is being used.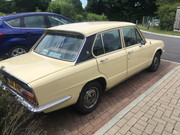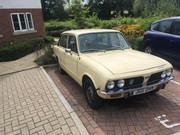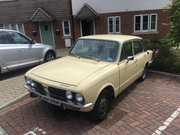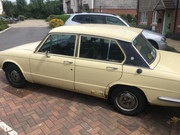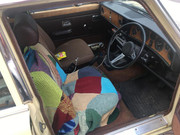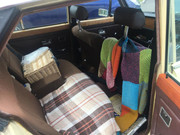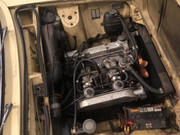 _________________
HQentity
(Kyle)
1975 TRIUMPH DOLOMITE 1850 in Honeysuckle (Nina)

2015-2020
"The harder the conflict, the more glorious the Triumph." - Thomas Paine