I took the manifold back off to look at the bypass tube leak. It looks like the lower o-ring rolled on assembly, so this time I "lubricated" it with some silicone RTV (not much) and it looks to have gone in ok.
I managed to get a 5/16 unc stud well into the block and this time I was able to torque up to the manual spec of 20 lb.ft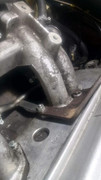 Unfortunately during the process of re-timing the cam relative to the crank/jackshaft I dropped a nut down the timing case.
When I bit the bullet and removed the timing over, there it was!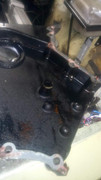 Unfortunately it looks like the timing chain is quite well stretched, so I'll be replacing that as well before it all goes back together.