Some progress has been made - slower than anticipated - but progress all the same. I've been snatching the odd hour here and there to work on VYK, but apart from time I've found that space to work in has been my biggest challenge.
So the idea was to replace the chassis leg with engine in situ and the rear of the subframe dropped. The plan being, to drill out the old spot welds and cut around the old subframe bolt sleeve from underneath, thus removing the leg but leaving the sleeve in place. Cut the new bolt sleeve off of the new leg and then marry the two together. Old sleeve - new leg. Simple!
I soon found that drilling and cutting the front portion of the chassis leg was pretty much impossible with the engine in place because I just couldn't get access with the spotweld drill or angle grinder. I think that it could be done if you have smaller air powered tools, but my trusty angle grinder and drill bodies are just too big to fit in the limited space.
Fortunately, only the rear portion of my chassis leg was rotten, with the front portion still in good condition. So, a plan was hatched to splice a portion of the new leg to old...........
As so the new leg was cut to size, zinc primered and drilled for plug welding...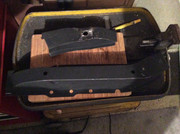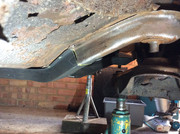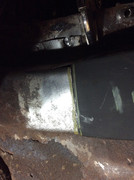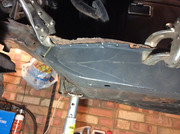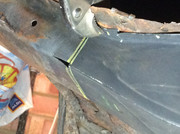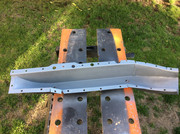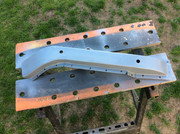 The profile of the new club supplied leg is slightly different but I'm pretty pleased with how it lined up. You can see how I have had to snip the old leg to splay it a little on one corner to get it to line up nicely.
Then it was on to tacks and plugs....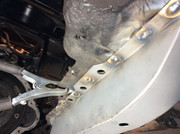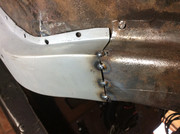 Because I'm limited to the height of the car on axle stands it's a bit tight under there to get a good welding position but it's do able, it just slows things down having to rearrange things all the time but I'm getting there ...........