It has been a while since my last update. A family holiday stopped progress for a few weeks, but I have been busy on the car since.
My next task was to tidy up the offside inner wheel arch and inner wing. It was evident that there had been numerous repairs here over the years and also evident that some more were required!
Although some of the patches were still solid, they were only patch repairs so I was keen to see what was behind.
The worst affected areas were the arch at the bottom corner and also at the top where it meets the bulkhead, all of which had been repaired before. I decided to start again, so cut out the old patches..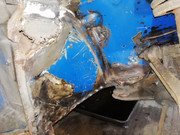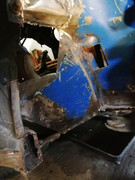 The lower repair was quite straightforward; but I found the top repair quite tricky to form. First of all I had to repair the bulkhead area, before then making the curved section to close it off. In the end I made this from 3 separate pieces of steel to get the correct shape - not the best repair, but after linishing down it is ok.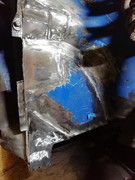 Another section required repair on the inner wing to the left of where the brake line comes through - this was easier and straightforward.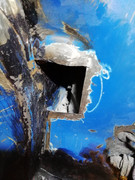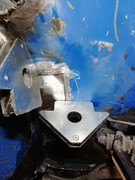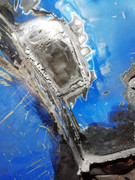 The worst area was around the battery area. This had been plated before also and didn't look right at all, but this time the plate itself was rotten! Cutting out revealed quite a large area of corrosion, although the chassis leg itself was still fine. A very small plate was welded in, (primed and sealed) to deal with some very small holes and the area treated with rust converter. I will fill this with Dynax S50 afterwards.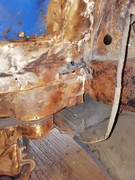 A outer repair section was formed and let in. I was able to check the original shape using OPD as my guide which has been very helpful.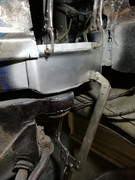 Then came the area where the battery clamp threaded bar passes through. The original had long gone and the piece I cut off couldn't be used as a pattern. My metal shaping skills are very basic, so I was very grateful to Steve (Carledo) for supplying an off-cut of this area to me at TDCIR. This was cleaned up and grafted in and saved much time - it looks as it should too.
The headlamp panels have also seen the MIG welder in the recent past. These are still solid, however as you can see they are lacking in some of the original detail. Replacing these with club replacements is an option, but as they are solid and not easy to repair with the wings in situ, I decided to clean them up and leave them alone. I did make up some 'L' section and let this in to extend the bottom lip and cut a hole for the sidelight/indicator wiring to pass. With a tidy up and coat of paint it looks quite presentable and not to far from original.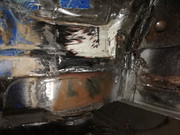 A couple of repairs were also made to the mounting lip for the mudshield.
Finally, I gave all the repairs a coat of Epoxy primer and fibreglass filled over all the joints to seal them up. After a rub down, a further coat of Epoxy primer was applied and then the whole area painted with EM121 Epoxy Mastic paint. I also gave the suspension area a wire brushing and coat of this to tidy things up and offer some protection. I may apply some colour coat to this area in future, but it is fine for now! Quite a time consuming set of repairs but I am pleased with how it turned out.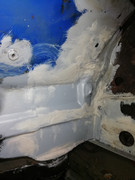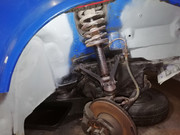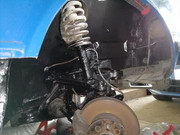 During the summer I also had an evening restoring the front number plate. I did this in the same way as the rear plate so now have a nice set to go back on in the future - this should give it a bit of a lift.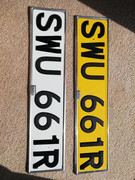 Another task to add to the list is the windscreen surround. What appeared to be a small grot spot developed into a cloud of filler dust once I had dug it all out - again very common and we've seen worse. I think I will follow James' methods and cut off the top of the wing to get to this area more effectively.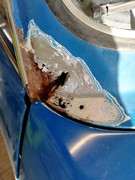 Next task TBC, but I need to turn the car around soon as the nearside sill will be replaced mid- October. I will cut out all the grot in preparation for my mobile welder to work his magic.
My aim is to complete all the welding by Christmas....this year!
Kind Regards
MC