Quote:
The very same, made by my dear wife on her 3D printer.
I have to agree with the comments on the quarter light seals. Surely there is enough interest for the club to do something?
But the front is difficult to change unless we can also arrange an alternative to the rivet which has to be removed to fit the seal. I did change mine years ago when a good friend made suitable rivets for me on his lathe.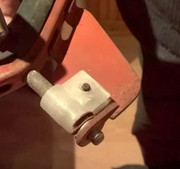 Time to get them into mass production Paul! When the seals hit the market, everyone who buys a seal is gonna notice their plastic bush is broken, want a new one and there you'll be with the product! This time next year Wodney...........
As Murdo pointed out to me (I hadn't noticed) there IS another way besides cutting out that that large and unique external rivet. The little bracket that attaches it to the frame is held on with 2 smaller and more conventional (and invisible externally) rivets. Not easy exactly, but much easyER!
Steve