Sprints and 1850s share thermostat housings (TR7 ones are very different).
They are prone to having the outlet for the expansion tank hose break, but this is repairable
(by fitting a hosetail).
The plug should only ever be removed or fitted when the coolant is cold.
I have not tried this myself, but I should think a T2000/Vitesse/GT6 housing could be modified to fit a Sprint
(by fitting hosetails and a plug).
Alternatively, if you employ a suitable header tank positioned correctly, a TR7 thermostat housing could be used,
however this will involve a bespoke top radiator hose.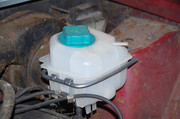 Ian.
_________________
TDC Forum moderator
PLEASE
help us to maintain a friendly forum,
either PM or use Report Post if you see anything you are unhappy with. Thanks.