The issue of keys for this car has been solved.
When I looked back at some earlier photos I had of this car I spotted a bunch of keys hanging from the ignition with a distinctive medalion on the key ring. I remember spotting that medallion somewhere and in my search I found it and a bunch of keys. It included a spare ignition key and a round disc on which these markings were printed. On one face it said STEERING LOCK KEY SERIES NO. On the next line it said ESSENTIAL FOR REPLACEMENT. On the reverse face it shows the following;
Attachment: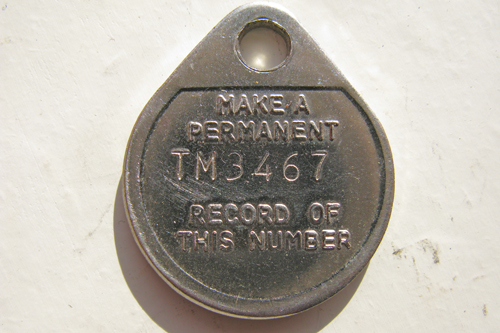 20191021-1590Ptff KKJ 5 Key marking.jpg [ 180.08 KiB | Viewed 11 times ]
If I quote this number somewhere will someone will supply a new key? I have no idea where or who will do so. I have no need for another key at the moment for I had one cut to match the left hand key in the photo seen above which works satisfactorily.
On the same bunch of keys were two that actuate the door lock. It has a different pattern to the ignition key.
It seems that if when you try to unlock the car and use the ignition key the unrelieved end of the key will prevent it from entering the door lock. If you were fumbling around in the dark then you would just use the other large key on the key ring and that would open the car door.
That makes sense when you think about it and is quite a logical way of doing it, if as was the case with this car, the ignition and the door locks are keyed differently when the car was sold off the showroom floor.
Also on the bunch were two Wilmot Breedon FS 934 keys which would have opened the boot and the glove box. The boot lock has disappeared on the car but that is okay for I have a number of sets of boot and glove box locks and keys and I will fit a set in due course.
Robert