Quote:
Hi Richard,
Personally I wouldn't bother with an electric fan. Just give the system a good flush and refill with a quality antifreeze mix. As well as the Sprint I have a Triumph Stag which I have had for some 10 years. When I got it it was fitted with a Kenlowe fan and I left it on though it never seemed to cut in despite the Stags reputation for heat related problems. The car did get a bit warm in traffic and also at speed on the motorway. This summer I had the radiator out as I was checking on the timing chains and I noticed how much of the area of the radiator was blocked by the fan. (see pics below) I decided to remove it. The following weekend we went to a car rally and queued for 30 mins at the entrance on one of the hottest days of the year. The temp gauge hardly went above half way. On the drive home I went via a stretch motorway to see what the temperature was like at speed. Again the gauge hardly moved from normal. The car ran cooler and the temp did not rise as much as with the fan fitted.
I have a theory that people fit the fans either a) because they have overheating issues so rather than find the cause they cure the symptoms - i.e. fit an electric fan. Which then justifies itself by making the engine run hotter because it restricts the airflow through the radiator. or b) because they are worried it may overheat in traffic. When it does - due to the restricted airflow the owner again feels justified.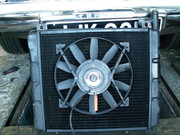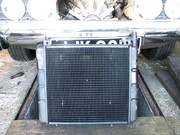 Also I personally wouldn't worry about additives to the petrol. Just use it. If you notice the valve clearances closing up indicating valve seat recession you can then pull the head and get it converted - I suspect it will be quite a few thousand miles before you notice anything.
Roger
I take it your Stag had it's original viscous fan still fitted as well as the Kenlowe? Which is truly overkill and pretty pointless! One or the other is sufficient.
To the OP I would say that on a 1300, the original cooling system is adequate if in decent condition and can cope with a British summer unaided by modern electronics. Personally i'd go electronic ignition with one of the cheaper kits (I use the Accuspark from SimonBBC on ebay but other similar systems are available) If you travel far from home regularly and feel insecure about breakdowns, buy 2 kits, one to fit and one for the glovebox, at around £30 a kit, a spare won't break the bank and it's easier to fit at the side of a cold wet motorway than a set of points!
As everyone else has said, the time to worry about valve seat recession is when it happens! Many engines will go years and years on "lead memory", the only time you get a problem is when some well meaning person pulls the head off for no other reason than to look then grinds the valves in because "why not whilst the head is off?" Which destroys the lead memory and gives you about a thousand miles before it will need sorting and hardened seats fitting.
I was around when all this was happening in the 80s and I remember the scare stories, mostly started by an experiment conducted by "Practical Classics" magazine. They bought an ordinary Austin 1800 and undertook to run it exclusively on the newfangled unleaded petrol and see what happened. Within a couple of hundred miles the valve clearances were closing up and by 800 miles a couple of valves had burnt out. Which scared the s**t out of everyone!
The daft thing was that they had unwittingly done it to themselves by overhauling the cylinder head before starting the experiment (in order to make sure it was all in good nick so a "fair test") and had regound the valves and cut the seats, as anyone would in those days, as a matter of course. Which in turn destroyed the "lead memory" in the seats and valves, so the test was a disaster! There were also a lot of "snake oil" cures floating about in those days like the bags of lead shot you dropped into the tank or tubes of pellets you fitted into the fuel line. You still find them from time to time, I have a scrap 1500 in my yard with a tube fitted ATM! Fuel additives are not much better! I've also seen a bill for over £200 (in 80s money!) to "convert" a Sprint to run on unleaded fuel! Since a Sprint already HAS hardened steel seats in it's alloy head and all that is needed at most is a slight timing alteration to account for the octane difference, this was a mighty expensive scam!
The only thing I WOULD advise as a matter of urgency, is to replace all the rubber pipes in the fuel system with ethanol resistant R9 fuel pipe. Ordinary pump gas (Not super unleaded) now mostly contains up to 5% ethanol which eats old style rubber hoses for breakfast and can cause a nasty fire! A metre of R9 hose and a box of Jubilee clips together is only £10-15, it's well worth it for peace of mind!
Steve