Quote:
I agree that it could be caused by having a non vented petrol cap fitted. Several years ago when it was very cold I had a similar problem and I my assumption is that I had ice form and block the vent path. When I took the cap off I could hear the air rushing into the tank and the engine started up once again.
I will attached a picture of a locking type cap stripped down so that you can see the vent path. There is no hole to see, there is a slot cut under the rubber seal and up the side. Very crafty. If you look carefully with the rubber seal in position you can see the slot up the side.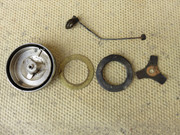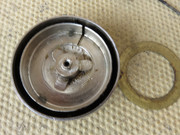 Thanks for the pictures etc.
I checked the non locking cap today and everything seems fine, I also checked the fuel line from the tank and didn't find anything wrong.
I removed the coil today and it seems an original as it is a Delco one. I shook it and it doesn't seem to rattle.But the ballast resister is missing and there is a lot of wires connected to each other. Alan