Quote:
An interesting point when I spoke to Chris Witor he asked me which design of coupling I was proposing to refurbish as there were two different build standards for the couplings that basically look the same. He advised me that the easiest way to spot the difference before the item is stripped is to measure the thickness of the central disc. The slightly thicker disc is ¼ inch against the thinner which is only 3/16 thick. The picture also shows that the two disc are drilled differently and take different shaped bushes.
See the photograph of Lowe steering coupling bits below
The SuperFlex repair kit SPF1179 is for the thicker disc design and the part number of the bolts that are drilled so that they can be wire locked are 108976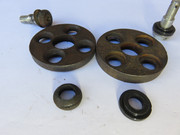 Thanks to everyone who has commented and provided me with very helpful advice.
Looking at the picture from Richard it seems apparent that the wired type of knuckle has the thicker 1/4 centre disc which is also referred to as the Top Hat style. In speaking to Chris today he only has the poly bushes for this style. The knuckle with the peened/crimped bolts within them (which is what I have currently on my knuckle) has a slightly smaller centre disc at 3/16 (?) and is referred to as a Conical disc option.
Initially I hadn't looked closely at the picture Richard sent but you can see it clearly once you know what you are looking at..
So with my knuckle it appears that the CW kit doesn't ideally fit, although it does look like someone may have used incorrect rubbers on the one I have.... So I am going to strip mine down and just double check the centre disc option that I have to be 100% certain and go from there, as it seems possible to cross contaminate the components ... I am in the process of sourcing some new bolts (108976) with a few feelers out that look very promising, so I am just waiting for 100% clarification that they are what they should be. If they are I will be ordering them and then looking at rebuild options..
Thanks again to all. Will let you know how it goes..