I came across this adjustable vacuum unit that fits the 44D4. At least it fits this 41402 one that has a NOS early 45D baseplate in it, which has the slightly longer pin under the points plate to connect to the vacuum unit's arm - but not as long as the remanufactured 45D baseplates, so it misses the bob-weight post tops.

It seems like the screw controls a simple stop on the maximum limit of the advance, and the rate of advance with vacuum, as in deg/mmHg, is what it is.

What I can make out of the numbers on it are T 3 3 54425079. Where 54425079 is a Lucas vacuum unit number for a 45D, but that does not seem to be adjustable. I've not seen anything like it before.

So I was wondering if anybody knew anything about these adjustable ones, and or have thoughts on setting it up?

My interest in it is to limit the overall advance to reduce the tendency to knock, which lower octane petrol like 95 RON E10 in higher compression engines can make worse, and which I've had damage pistons (twice). I know knock should happen mostly at big throttle openings in the mid-range of rpms, when the vacuum advance won't be doing much. But it's another thing to play with, isn't it.

That's why it's on this 41402, which has the lowest stop angle on the mechanical advance of all the 44D4s, 7 degrees at the distributor or 14 degrees above static at the crank. I'm still working on the selecting the springs that control when the mechanical advance starts and when it reaches the stop. I'm thinking to start with something like the primary from a 41655 44D4, which has the lowest initial advance rate of all the 44D4s - about 9.10 deg/1000 rpm. I'm still thinking about the secondary and where to set the knee in the advance curve, if I go for an asymmetric pair. The 41655 gives only 2.15 deg/1000 rpm, which, from what I can work out from the new set I got from The Distributor Doctor, comes in at about 18 degrees of mechanical advance at 3000 rpm at the crank. So I'd have to shorten a 41655 secondary if it was to have any effect in a 41402 44D4.
Attachments: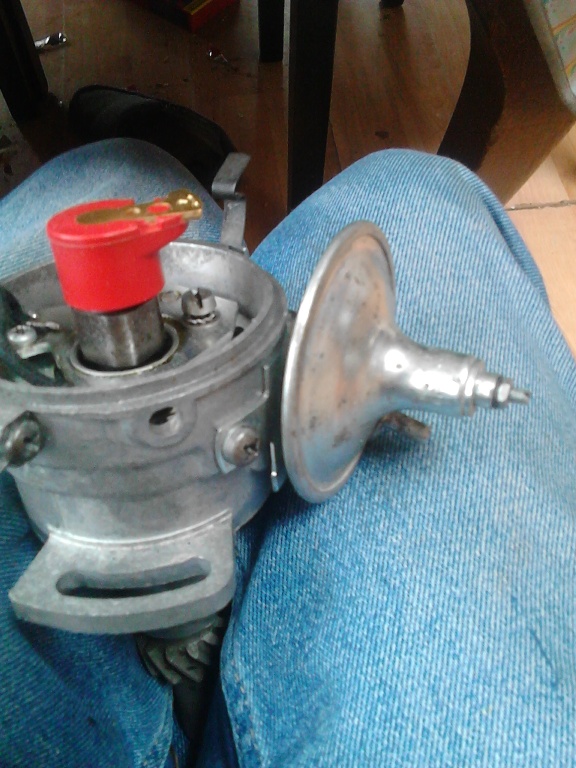 IMG_20220520_155758.jpg [179.36KiB |Viewed 72 times ]

_________________
The 16v Slant 4 engine is more fun than the 3.5 V8, because you mostly drive it on the upslope of the torque curve.

Factory 1977 TR7 Sprint FHC VVC 697S (Now all of, but still needs putting together)
B&Y 73 Dolomite Sprint UVB 274M (kids!)
1970 Maroon 13/60 Herald Convertable (wife's fun car).