Nice shiny new halogen headlights! As luck would have it, the previous owner had already done the halogen conversion for me, relays and all. So it was just a case of swapping the old milky lights for new ones.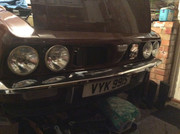 One thing that had been annoying me was the aerial hole in the rear wing. I had bought a few different types, only to find that they didn't have a steep enough angled base to fit the wing. I remembered the scuttle mounted aerial on the air cooled vws had a steep angle so I thought I'd give one of those a go.
It's a nice fit, and stainless steel, so won't rust before my eyes in a matter of weeks..... I hope! They are available from Machine 7. A quick google should find them if you need to.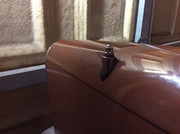 I have also got the indicators working properly by fitting a more modern relay. I used a Meyle one because I have always found them to be good quality for the price. German quality but a bit cheaper than Hella or Bosch. Fitting one means that your indicators work all the time, even with the engine not running, and at a constant speed. Also, the relay gives a good loud - click clock sound. The only modification needed, is to fit a wire from the third pin of the relay to ground.
Incidentally I have a few of these relays surplus, so if anyone wants one drop me a pm.