Quote:
Will this be enough for a Dolly?
Serious overkill IMO!
Find a pic of a stock MkI/II GT6 bonnet, the top louvres are just about perfect, in both size and relative position! Ignore the side ones on the MkII, pretty as they are, the Dollies solid flitches would make them purely ornamental and you look a bit silly!
Something like this Stag is just about PERFICK!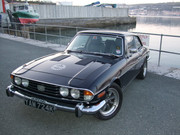 Steve